You might think that you have to be rich and famous to succeed in the stock market. It's just not true. You have as much chance at success as the Wall Street Cats. In fact, you might have even a better chance because you don't have the ego (if you do, I can't help you there. It takes one to know one, right?). You can tackle analysis paralysis.
I'll show you how.
But first, I want you to understand why this is possible. Let's rewind to the past decade, from 2000 – 2010. In this time frame, there has been one team that has dominated above the rest in professional sports. This team has forcibly inserted itself into the dynasty conversation with its multiple Super Bowl rings.

I'm talking about the New England Patriots. Now, I'm not particularly a fan (I will always be loyal to my Super Chargers), but I do have a lot of respect for the team. Last decade alone, they have won the AFC championship 4 times– 2001, 2003, 2004, 2007– winning the Super Bowl 3 of those 4 times.
The story behind the team is truly inspiring. In the year following the horrific September 11th attacks, the team of the country– The Patriots– went on to win the Super Bowl and the hearts of Americans everywhere. How could you not like them?
The Ultimate Underdog Story
Their starting Quarterback was the ultimate underdog story. Tom Brady came into the league out of shape, undersized, and completely ignored by professional scouts. He was drafted as a 6th round fill in, with no real plans to ever be the starter.
He was criticized as being too slow, and lacking arm strength. With gunslingers like Brett Favre to compete against, how could this skinny kid from California ever hope to succeed?
Tom Brady's first season was almost exclusively on the bench. He was the 4th string, which meant he had 3 QBs playing in front of him. But he never gave up.
The next season, Brady stuck around enough to be the backup to starter Drew Bledsoe. Keep in mind that the fans loved Bledsoe, and he was a good player. There was no way that Brady was going to take his spot.
Yet in the 2nd game of the season, misfortune befell Bledsoe, in the form of a nasty hit from Jets linebacker Mo Lewis. The hit was severe enough to cause internal bleeding, and forced Bledsoe out of the game.
Brady finally had his chance.
He stuck in there for the next couple games, winning some and losing some. Then he seized the opportunity against my San Diego Chargers, coming back from a 10 point deficit in the 4th quarter.
Brady didn't stop there. He went on to lead the team into the playoffs, and then the Super Bowl. He overcame an injury in the AFC championship game to lead his team onto the game winning drive in the Super Bowl.
The Patriots overcame all odds, and even a 14 point spread against the heavily favored St. Louis Rams, to win the Super Bowl for their fans and their country.
On the biggest stage in U.S. professional sports, Tom Brady won the Super Bowl MVP. He hasn't looked back since, and is now a 3 time champion.
What if I told you that his story isn't that impossible to achieve?
A Twist in the Story: Cassel
Now that you know the backstory behind Tom Brady and the Patriots, you should next understand that Brady was, and still is, the beneficiary of a superior system. Don't believe me?
I must introduce the next character in this plot. Meet Matt Cassel. Cassel was also a New England Patriot. Interestingly enough, he never started a game in college. The Patriots had drafted him as a bench filler, starting his rookie season on the 3rd string team.
Yet by the time the 2008 season came around, Cassel was the backup QB to Tom Brady. Does this storyline sound familiar?
In the season opener of 2008, Brady went down with a horrific injury that would knock him out for the season. Yet like clockwork, Cassel came in and filled the part brilliantly. He would lead the team to an impressive 11-5 record, just missing the playoffs.
How did the rest of the story play out for Cassel? The kid who never even started a game in college was later signed to $62.7 million contract after shocking the world with his excellent play with the 2008 New England Patriots.
What's interesting about this story is the Patriot's consistent ability to generate above average results, with seemingly below average Quarterbacks.
This balks in the face of experts, who put the utmost emphasize on Quarterbacks and their abilities to lead a team. No analysts had predicted that either Tom Brady or Matt Cassel would be great, yet they were.
It shows you the importance of a superior system. No matter who is playing Quarterback, the mastermind coach Bill Belichick has created a system that will win more than they lose, as long as players execute.
It's a foolproof system such as this one that makes the Patriots the dynasty team that they are. There have been similar systems in other sports, such as Phil Jackson's triangle.
In the end talent matters, but the best system always wins out.
This is ever so true in the investing world as well. You can work harder, but it's the investors who work smarter that see the best bang for their buck.
Why wash dishes by hand when there is technology to do it for you? Similarly, why trust your money to the ancient financial institutions when there are more resources to educate yourself than we've ever seen?
You can be a hard worker and a great saver, but until you become a great investor, you won't realize the most potential for your life's work. The best person to manage your money is you. You just need the right system.
And that's where this post comes in. I show you exactly how to get past the biggest obstacles that beginners face, analysis paralysis.
I'll show you the first steps of the system, but it's up to you to execute. Once you finish this post, be sure to subscribe to my free newsletter. In there, you'll see the system in its entirety. It's based on successful investment strategies, proven over and over again.
Are you ready to tackle analysis paralysis? Buckle in, let's go.
Attacking Analysis Paralysis
First things first, you should look at buying a stock as if you were buying the business. Forget about what the share price is doing, what is important is that the company is profitable and generating cash.
We want a piece of that cash.
If you were buying a company, what would you want it to be? Most likely, you want the company to be healthy. Sustainable.
In the investing world, that means a strong balance sheet. There's an easy metric to measure that. It's called the Debt to Equity ratio.
The Debt to Equity ratio is important because it keeps us from risky stocks. Did you hear the story about Lehman Brothers? The "too big to fail" corporation that went bankrupt in 2008? Shareholders were absolutely fleeced, yet it was so avoidable.
Lehman Brothers had a Debt to Equity of 29 in 2007. We want companies with a Debt to Equity less than 1. How to find that? It's easy.
I want you to use a website called finviz.com. I've linked to it– to open in a new tab for you– so go ahead and open it on a new tab. You should see a lot of confusing menus.
Click on the screener tab. Then, click on the Fundamental Tab. Under the Debt to Equity tab, click "Under 1". It should look like this:

Congratulations! Now you are analyzing a stock! Notice how the website filters stocks for you, eliminating any stocks that have a Debt to Equity ratio higher than 1.
Now, you never want to invest in a company solely with one ratio. If it were that easy, we'd all be millionaires.
But you can add a couple more parameters to really filter out some bad stocks, and find your winners. Like I said above, I'm going to give you the basic starting point with this post. To really get in-depth with additional resources, subscribe here.
More Stock Analysis 101
Going back to what we look for in a solid business. Remember that we only want the most profitable businesses. This is where the P/E ratio comes in. 
You might have already heard about this ratio before. It's the most popular ratio in the investing world, and with good reason. Low P/E ratio stocks tend to have higher returns than high P/E ratio stocks.
A P/E ratio just tells you how much you are paying for earnings. The truth is, almost every stock has earnings. But you only want the most profitable companies.
The problem is that you can't use earnings numbers alone to find the most profitable stocks. For example, a small company just starting out might only have $500 million in earnings. $500 million might be a really bad year for a much bigger company.
That's why we use ratios. With ratios, you can compare companies of different sizes. Just because a company is big doesn't mean it will give you the best returns. Remember that some of the best returns have come from stocks with low P/E ratios.
This ratio also protects us from bubble stocks, which crash the hardest in tough times.
Cisco (CSCO) crashed from $77 to $16 during the dot com crash. It had a very high P/E and could've been easily avoided.
More specifically, we want a P/E below 25. This number was calculated by Warren Buffett's mentor Ben Graham. So go back to your finviz tab and select P/E: Under 25.
You should see more stocks being filtered.
The Ratio for Superior Returns
Finally, I want to leave you with one last important parameter. It's called the price to book ratio (P/B ratio). While the first 2 parameters protect you against dangerous stocks, this one helps you find the biggest gainers.
Everybody knows that you win in investing by buying low and selling high. If you aren't doing this, you aren't making a profit. The P/B ratio makes sure that you are buying low.
How?
Well the P/B ratio identifies stocks that are undervalued. Think Tom Brady and Matt Cassel. These are the stocks that the market is ignoring, but you know have potential.
A low P/B ratio means a company is undervalued, while a high P/B ratio reflects an overvalued company. Low P/B ratio is how you'll build wealth.
It's how you'll get a $1 worth of assets, for $0.70 on the dollar or less. This ratio tells you exactly how much value you get.
A P/B of 0.5 means you're paying 50% of book value; 1.25 means you're paying 125% of book value. A book value is simply how much a company is worth if it sold all of its assets today, and used that money to take care of all its liabilities. The remainder is book value.
Look to always get a discount on book.
We want to screen for companies with a P/B less than 1.5. If you can get one under 1, you've found yourself an even greater value. In the finviz tab, select P/B: Under 2.
If your screen looks like that you are on the right track. Finally, click on the Descriptive tab (next to Fundamental). Select Index: S&P 500. Select Dividend: Positive <0%.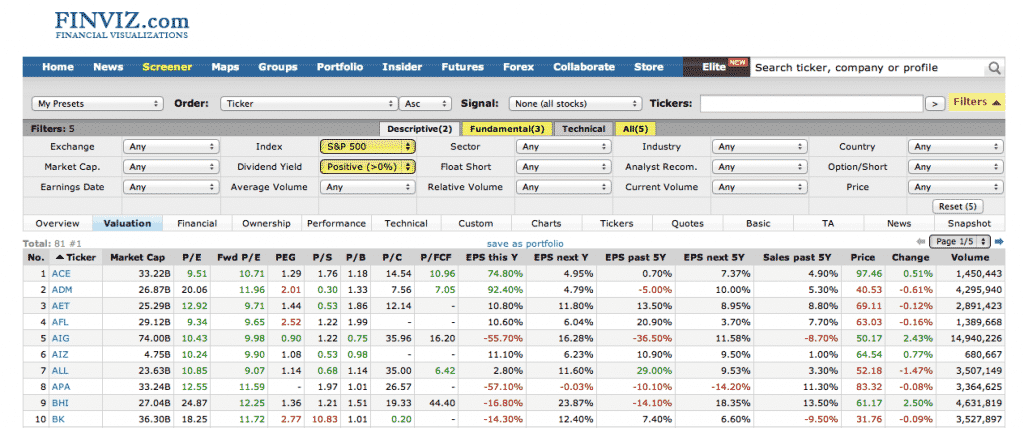 Congrats, you are a stock analyst!
Now all you have to do is take the initiative to learn the rest of the system, which will be a little longer than 5 minutes, but will be well worth your time. I've given you all the tools you need, I hope you'll take advantage.
With the right system in place, even you can become the next Tom Brady of the investing world.
A Few Final Words of Caution
Before I let you go, I have a few words of caution. The numbers of this screen have been heavily thought out through months of research on my part. I highly suggest following those parameters, especially for beginners.
Be sure you aren't forgetting to add the dividend component to your screen. Dividends are your only friend when the stock market isn't. The cash from dividends is how you'll become wealthy.
Also, be careful using this screen on any financial companies. Because these companies are highly leveraged, they are very sensitive to interest rates and the macro economy. Even their accounting is different than all the others. Be very diligent with these stocks.
Finally, I really hope you take me up on my offer to reveal the complete system. As you might imagine, it's not one that can be contained in just one blog post. I commend you for getting this far, and hope to see you in the subscribers zone.
**Wisdom Wednesday #49**
**All Rights Reserved. Investing for Beginners 2013**
**Photo that is shown above can be found here: Photo Attribution**
**Tackling Analysis Paralysis: How to Analyze a Stock in 5 Mins**