A common first step for any potential investor is to try to find out what brokerage is the best for them to open their account with. I personally believe that Ally is a fantastic option for someone to start their investing journey.
Andrew has talked on his podcast in the past about how he uses Ally for his brokerage account.  He said that the thing that initially attracted him to Ally was that they were one of the cheaper brokerage firms as they only charged $4.95/trade. 
While things have recently changed drastically with many brokerage firms going to $0 fees, including Ally, I still do think Ally has a really strong platform and is a great option when it comes time for you to decide on your preferred brokerage.
One of the things that I think sets Ally apart is their ability to be a "one stop shop" for your money. I use Ally for my high-yield savings account as it doesn't carry any risk at all but I use Fidelity for my investing.
The only reason that I use Fidelity is because that's where my 401k with my employer is, but I'm questioning if it makes sense to leave it at Fidelity and maybe I should switch everything to Ally.
When you first login, you will see the page below where they're advertising their 1.7% interest High-Yield Savings Account – not too bad to put your emergency fund!
You can see at the top that Ally offers many different options for all things money, including bank, auto, home loans, investing and learning! You really can use Ally as that one stop shop that I had mentioned before.
But alas, we are all here for investing, right? Below shows all of the different investing options that you have with Ally: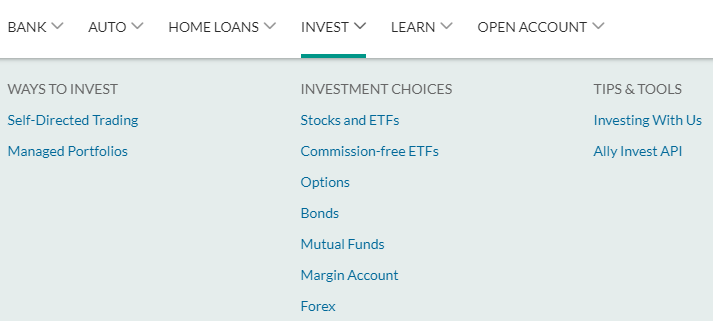 As you can see, you really have a lot of different options for investing. You can open an account for Stocks and ETFs, options, bonds, mutual funds and really anything else that your heart might desire!
The "commission-free ETFs" section is a bit misleading because Ally has recently switched to be a commission-free brokerage on all stock and ETF purchases!
In addition to the Stock and ETF options, bonds, mutual funds and security pricing really isn't expensive either when you really think about it in the grand scheme of things:
One of my favorite aspects about Ally is that they really focus on a "learning" section for their investors. They make it a point to educate their investors, as a lot of companies do, but I think that they make their articles more relatable to the average investor.
A lot of times the learning and education sections for investors at other brokerages are dry and boring. Sure, they are very informational, but for the new investor that might not have a deep passion for investing, it can be hard to get through the articles and even harder to actually retain any of the information.
Below shows some of the articles that they have available for you to read:
Legitimately every one of those articles are something that I think is extremely interesting, especially if you're a younger investor. The article about the Best Children's Savings Account specifically stuck out to me, as my wife and I are expecting our first in February!
Should I open a high-yield savings account, a 529 for college, a brokerage account?! Or maybe something completely different than I'm thinking! I currently have a 529 but maybe that's not properly aligned – regardless, Ally is posting articles that are relevant to me and where I am at in life.
As you all know, this is an investing for beginner's website, not a trading website, but I do sometimes think that trading tools can be useful to look at, and Ally really does provide a sleek and powerful platform to do so if trading is your game (I recommend it not to be):
Some of the market data and the probably calculators are just tools that I think would be fun to take a look at and could likely assist me in my long-term investing journey (not trading!) but a lot of that just depends on personal preference.
Even if you don't think you would get benefit from this, it's just another tool that you might end up wanting to utilize at some point!
And then to do a complete 180, and more likely aligned with our long-term investors, Ally has a great "hands-off" investing option for those that understand the importance of investing and compound interest but might not necessarily be the type that wants to dive in and purchase individual stocks.
While I do really challenge everyone to take a look at some individual stocks, I do know that not everyone has the mentality where they want to research and analyze stocks, and that's completely fine! It's important for you to understand yourself and know yourself very well so you can make sure that you're invested properly.
If you don't have the desire to be a "stock picker" then don't – find a hands-off approach like what Ally offers.
The beauty of the Ally Hands-off option is that it also is completely free! You just need to have an account minimum of $100.
So, this is great and all, but does Ally offer the ability to DRIP your investments? Robinhood doesn't, and if you've listened to Andrew then you know that this is extremely important, as Andrew is the DRIP King after all…Well, turns out you're not the only one wondering this!
As you can see, it is the #1 FAQ – and the answer is YES! They do offer DRIP, so no more need to worry on that! Are you convinced to go with Ally yet? If not, maybe some of their recent awards will help push you across the finish line…
Those are some pretty strong words and recommendations from some very trusted companies. As I mentioned, I am currently with Fidelity but as I started to research more and more about Ally, I legit think that I have convinced myself to switch my account to an Ally brokerage account.
After all, it's really hard to ignore some of these great tools and awards, right?!