Podcast: Play in new window | Download
Subscribe: Apple Podcasts | RSS
Welcome to Investing for Beginners podcast, this is episode 38. I'm Dave Ahern, and we have Andrew Sather here with us tonight. Tonight we're going to have some, the fun we have a special guest with us tonight. So we're going to be interviewing Maj and Maj is from Geo Investing.
The differences between minor caps and small caps
Defining information arbitrage
The advantages of reading press releases
How to confirm management statements
The importance of footnotes in financial statements, especially subsequent events
that's the name of his company, and he's a very very interesting guy, and this is going to be a lot of fun so without any further ado, Maj would you take a moment and tell everybody about you and kind o fwhat you do and who you are where you from and all that kind of fun stuff.
Maj: excellent yeah well thanks guys for having me here. This is an opportunity; I love talking to other investors and learning new things and every day and hopefully be a little bit today from each other.
So you know Geo Investing was launched in 2007 when our tenth year anniversary geoinvesting.com and you know it's you know it's a site that we brought I co-founded with my partner Dan and you know we launched it with the intent to help educate investors about the advantages of investing and smaller capitalized companies. Small caps, minor caps you know and it to help understand how they can get an investing advantage doing that.
And you know in the increasingly competitive environment and you know we've been doing that and we it's been an awesome ride, and we bring our products to our members through morning emails, through model portfolios, through a lot of proprietary research. And you know and our we call our investing call to actions which are what we're buying and selling.
We do a lot of long stuff, mostly long stuff, but you know we pay attention to risk factors so once in a while you'll be losing called portfolio protection and if we find some bad apples in the smaller capitalized space. We'll talk about it because we think there are too many bad apples out there you know surprisingly since 2008 you can be less. But you know we're out there to help protect our membership base and our subscribers from you know finding these value traps, unsavory management teams and you know we were a unique blend in that you know you resource is intense.
You know you're either going to love us like this is crazy, and we're very we disclose everything we do, and we know what this unique blend offers our members to be able to hey you know one of these guys doing this.
I've been doing this for almost thirty years now, so I want to experience, and I've made a lot of mistakes myself, and they get to learn from that, but it's also for the investor who wants to do their research. you know we have a proprietary research of over 1,000 research pieces on needing honest on the space and I kind of make it akin, like I make acomparison with like the value line from like our caps you know value line is a great source that you I learned and did use when I knew first getting into investing.
Studying Peter Lynch and the kind of you know started my whole routine and what part of my routine when I was younger wow I wish that existed for really really small companies. The few quality ones out there, so that's kind of what you know where we're at these days.
And well I love our reasons we're tracking a reason for tracking is like really quick. Again if you don't have internet I'm you know quick five to ten reasons I like a stock we're getting into it, and it takes the system I remember through our whole research process.
From the beginning when we might write a whole report maybe you know to get involved in the company. We go through risk factors, why would love leave I like the company you know our interview notes for management so that you have a chance that you know actually to live it with us and you know when we not we might no bite.
We how about a stock and they want or day two or day three and that's real. Our members always appreciate that we're not you know we're not front-running. We do any of that we're here hey you know guess alongside us and do our research with us.
And it's a really any combination where I think investors able to learn as hopefully, they're making money.
Andrew: I mean obviously we're all about research and education.  That's a big theme in our podcast is trying to get as much information as possible and empowering the average investor.
And it sounds like you have a lot of similarities in that kind of an approach. So you mentioned micro caps, and I guess you call them minor caps and small caps and then Peter Lynch obviously which this is great timing for the podcast because we just talked about Peter Lynch last week. We dedicate the whole episode on that so how I guess from a sizing perspective we have marketcap for the beginner who's listening that's just the size of a company the relation of the share price to how many shares it has outstanding and that makes up the company's market cap.
So there's alot of different sizes, we got a mega cap as I see you've referred to them as mega caps before and then there's also large caps, many cap small caps, and then you talk about minor caps, and I don't know if micro caps is one of the two.
So let's talk about mega caps in a second but specifically the minor cap and micro cap and small cap what are those and why are there advantages there and how do you kind of attack those?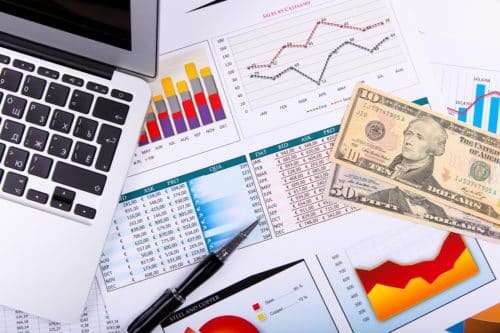 Maj: well we know we're you know we concentrate you know so when we define what mark caps fall in those categories, so a true market cap is generally between 50 million and 300 million in the market at you know the price times the share of outstanding shares.
And if you go below the layered cap you know where I call it not nanocaps, you know when you go to 50 million marks copy our at nanocaps, and it tells you the truth. That's where we a lot of what we play at you know, and there have been studies that show the smaller you go, the better your advantaged and you know that's why we kind of play in that area.
and it all revolves around this concept we call information arbitrage and then we kind of use ROC, we coined that term maybe three years ago and you know you know arbitrage you know if you look at the definition of arbitrage you know and the true definition it's like a risk if you can make a risk-free profit investing by taking advantage of you know maybe price and differences in different you knowis different you know jurisdictions like us versus you know China and or whatever.
If you have security at trades on both you know two different changes you know you're trying to short the other maybe.
It's not what some people think of you know arbitrage.  What's the closest we can get to a risk-free profit you know investing and you know and in the markets and you it's really hard you're investing in big caps because everyone's all over that institutions all over, that the bots are all over that you know?
Twitter's all over it, and you know so the way you do this is by finding you know public information that's out there free and that no one's looking at are finding and that Telegraph's where a stock is going to go.
I mean it's you know and it's hard a lot of investors don't believe that apps out there but it is in the minor and minor cap area and you know and forexample you know you might have a large company come out there, and you know, and they release their earnings, and everything's in the press release everything and there's no advantage to get there really but all these smaller companies when they report earnings, for example, they will report a loss sometimes, or they'll leave a lot of details out. It is great to the SEC filing where you know the late.
You know it takes the effort to go over there and do that and read those boring pages, and it's amazing what you can find in there, and that's why I love it.
I love the information at hand; you can get by investing in these smaller companies now no tip typically there is I should correct something you know there's this conception that the market cap is there is it relates to the size of the of the company which is wrong too.
So I mean the minor cap typically you know belongs to these smaller you know a smaller company too. But not all the time on their way, so I have this term called big cap micros which are larger companies with large revenues that have small means small mobilizations and those guys will typically maybe report more information.
So you know I'm looking for these really small capitalized companies when you know revenues may be under you know maybe um you know five hundred million in a smaller.
Better you know and then they typically a lot of times will release information that's just you knowin their filings, and it's you know it's legal to find it and train on it and it's in press releases and I have you know I have a war chest examples of those that we want to go through at some point here toda.yum how we become of exploited opportunities what management is telling you to buy our stock
Andrew: yeah let's talk about one of those and then maybe also like what kind of approach because we love talking about SEC filings and that's a big thing we try to push here on the podcast is get on SEC.gov you know find a stock screener trying to get a list of stocks and then go on SEC.gov, read an annual report and figure out what the numbers mean.
And so that's something I am really big on is the numbers and understanding the numbers and analyzing and making sense of what the numbers are trying to tell us and how that paints a picture.
So what do you look for in an annual report and what was an example of a time where you found kind of like a hidden nugget of information that helped you get substantial profits later?
Maj: sure, sure so I'll take you through a process, so you know like a lot of investors will look you know it. We double screen for stocks, and they'll look for the parameter try an undervalued company that looks undervalued.
And I take it I take an opposite approach, so we are reading the press release, I'm obviously looking for those obvious undervalued companies. but I love the findings come as I just look like they're dead,  you know I try to find asmall hint like in a press release you know or somewhere that there's a glimmer of hope somewhere, and I'll take you through any I'll take a few a process of how that you know really occurred when it was incredible situation and anyone who's listening that might know is probably to get bored.
I always like to tell a story, but it's great it's great it's a great story, and it's this is a company. It's the symbol was Edward Sam Charlie Charlie, and they make you know the equipment for planetariums, and you know the Disney would build you know, and they provide content for them too.
So you know the company when I came across a company in 2014 my assistant was reading a prescient earnings leasing you know, and they were reporting losses inthe press release, and they will report I think they had a go I should look like everyone a 30 million dollar every company.
They had maybe eight million outstanding shares I was at fourteen cents, but they were losing some money is like one little kind of sentence in the press release regarding the reason they were losing money was that of this pension liability that was past due and they were just takingthis charge, and I went back.
Okay what if this pension liability wasn't there what would happen here. Yeah because I have you know I know let's be interesting we took away that charge, and it was a pretty profitable company. Maybe doing attentionally at 30 cents a share earnings.
We had a stock that potentially if this pension libel you wasn't there we had earnings per share of 30 cents on an annual basis and it would be potentially debt-free. The stock is selling a 14 cents like it's you know the price for bankruptcy.
Okay, free money great you know we're big on us like thinking the numbers beyond what management gives you just thinking and you know taking the numbers and recalculating the earnings per share number aren't even the numbers, and you know we do that with every press release. Earnings press release and the market cap second we go out there we do rate we calculate our non-GAAP number and so I wanted a filing, and I found some verbiage in the filing.
The 10-q is related to that earnings press release that talked about the pension liability and that the company was trying to resolve the liability and there seemed to be a glimmer of hope. and the in the tank you that they were optimistic about resolving it and then I kept reading in you know that I read it and the next um Thank You correct every report you that came out kept talking about you know this liability and with every report was going to be was the river just getting better and better in the tank you not necessarily under pressure least though and it got to a point where he actually said in one their filings this is a date we're probably going to solve this by you know.
we ended up buying a stock you know at fourteen cents and you know every writing report about it actually for members missed on I think you're laterr esolved the liability and it's not eventually hit a high of I think it was $1.80 and that's that was just an example of basically what I like to call free money in this in and there's a lot of that there's a lot of that was out there just about digging a little deeper. But yours which was presented to you and like I said turning over those rocks just the more you do, the more you're going to find, and as you say a hundred eighty like $1.80 no wonder you know, that's a multi-bag and.
Give you another example which I think is a great example, and this is the  Boy George Sam Frank, BGSF, a staffing company and the stock was sitting around I think it was seventeen bucks. we had a box talk already maybe around nine or something or so happy with my investment all of a sudden they come out on the last day of a month into a weekend with a with a filing that you know our operation they're going to office in a second to a secondary offering you know fourteen dollars a share.
So basically the stock is back to 14 and weekend goes by and start reading the filings, and they gave no details and the press release what they were using the money for. so the first thing I did was that we went to the SEC filing the persist and went to look at the section called use of proceeds which is the first place I always go when I look at these you know the second area on his offerings, and it basically said that they're using it to pay down all a good chunk of their debt.
You know post it for acquisition, so when you do a little math, you took the amount of mine. They are receiving pay the debt off, and you could look in the footnotes to find out what interest rates they were paying.
You found out well this is a bad at worst case going to be a neutral event turn for share possibly slightly creative. So we wrote a small article for our members about what we just kept buying the stock much as we could have 14 and the stock I think one on a hit like maybe 18 or 19 relatively quickly after maybe 20.
I remember a relatively fast fashion and that's you know we call information arbitrage. It just took the market some time to recognize that was what the real reason these guys are raising the money for you know I mean they had strong growth as to what Anna's and David been there like I think a seven percent dividend yield when the stock fell.
So this another example of just taking you know information that's not diagnosed properly by the market and picking it apart a little bit and you all.
Andrew: I love that mention of Peter Lynch turning over rocks or new it's you know you can have a lot of the market just looking at the surface of  the rock and if you're just the one who turns it over you can like you said to find that arbitrage and it's information that's free, so you mentioned the press release. Say we have a beginner who's never able to find a press release before.
How would they go about looking one up and using that information in there?
Maj: any there are different tools I mean depends on how far they would you want to go, and you know regarding your you know in your pocket, but you know you just go to the individual if you have a brokerage account for example. All you know is some mean they may have a tool for you like you know meritorious but I think or swim where it can give you a feed of all the press releases coming through.
Maybe now she's sort by her and by earnings press releases and stuff, or you can go to the individual websites of different um different news wires.
There's Business Wire, PR, there's a market wire that goes are the major ones that you would and globe newswire, and you can go to each website, and you can segregate the earnings. Releases by category and that's how you start, and then you just go from there and you openup every if you don't have a great program you get a very precious for example you know and you know trying to find out which ones are Mayer cast.
But it's a great way to I really think that's should before they take the easy route and going and spending money onrollers we're maybe even a Bloomberg or whatever it might be and do it the hardway first just do it the heart go in there and you know just to do the gruntwork because you'll learn a lot more you, it's just there are some intangibles you learn by doing that, and you know what's good what we do here is we do it for our members. We do all that work, and we take I would say about six hours of research and take input into twenty minutes. It's a, but once you learn the process, it becomes a very quick I think it becomes a quicker process.
So you start with the press releases and you know you can go there and you just read those press releases. You start trying to learn reading how management's talking how they weave their story and you start to learn things and what is BS and what isn't BS.
Andrew: Yeah, actually it's funny you read my mind. I won that one I want to assess my next question. Like how often do you see like straight up lies in a press release or even in the annual reports and you know is there ways to protect yourself against that?
Maj: well the best ways experience. So you know on day one for me I didn't it was a lot harder because you develop a relationship with his management team. I'm not talking to them all time you start to see which one's embellish a truth and come through what they talk about what they promise and which ones don't.
But the one the best way to do it for a beginner investor, especially now when there's so much action information is reading the press release then go on the SEC filings and then reading earnings called transcripts again on seekingalpha.com and start seeing if the management team are consistent just across all three sources of information on certain things.
So, for example, you know a company may insinuate that it's well capitalized in its press release for the conference call. But then when you go to the 10q or 10k you might see in a liquidity section of a 10k or 10Q that they need to raise money.
Okay that's interesting and that's one of the most, that's the one of most common kind of you know magistrate you see what these management teams they talk about being well capitalized and you go find out in the filing that means they have to raise money soon before they have no cash on the balance sheet.
For example well obviously got the rating money so just trying to tie it all together you know and it's really as an investor you should make a journal you know of these managements like that do that make sure you have you eventually have a journal of all those teams.
When you come across something, you understand all other be careful.
Andrew: maybe I'm super big on like trying to avoid big losses, limit drawdowns, trying to not get into risky companies or companies that might go bankrupt.
How do you mitigate I know you mentioned it when you first came on I think mitigating value traps and how do you essentially protect your capital to make sure that we don't get these huge losses that can drag the performance of a portfolio down?
Maj: yeah, that's a great question man. And it's you know I think that the way you do that is as forceful from my experience was learning how to interview management teams, becoming intimate with them and understanding you know the risks from their point of view.
If they even understand or you know and you know it's like there it's very it's a very tricky kind of black hole to go down because sometimes the best investments are the one that looked the riskiest that will become less risky over time. So you know there are certain things I will avoid you know I try to avoid situations whereas there's so much debt that I don't think there's a plan for management to – you know resolve that situation.
There's you know you look at the competitive environment that the company's in relative to their financial statements and try and gain some access that way.
But it's tough you know you can look at ratios all day long and try and find these you know these companies that might look healthy. Then know what happened over here something happened like you know customer concentration so you know there's an I would put on the risk factors and then in the filings try and figure out for that particular company.
It's a litmus test which one of these is boilerplate, which one these can come true? They do come true what does it mean for the company you know.
So the customer concentration is a great one. Customer concentration you can look at it both ways I mean it can you can leave you major leisure customer you and go back upright, but if you diversify your customer base, there's a claim that you reduce that risk.
So I look at it from both ways so if I'm looking at a company with a high with a high customer concentration I understand that's a risk and it's possible but the valuation of the company might be compromised might below throw me a little p/e ratio.
Low valuation ratios because of that risk my next goal all for me is to find out okay from you know is this school is a company working on the way to mitigate that risk may be through an acquisition or just through some organic strategy.
So I see opportunity there you know and if that's how you get this double whammy effect and you might have a stock with a PE often and then maybe over time you keep that 25 to 30.
Potentially if it's a healthy company that's growing because I found a way to mitigate that risk, take that risk away. So I'm going a lot of that I'm looking at how I take that risk away, and I love that investing becauseit's these are complex they label a complex risky on the service but if you do your dig your research if they're really simple and you know and really good great ways to define opportunity.
Andrew: yeah I love that, and you know for investors who wouldn't know like how to find stuff like customer concentration for example if you go onto the 10k. A lot of times if you look at the revenue segments portion a lot of times they'll be notes to the consolidated income statements you can find a lot of breakdown between you know if it's a bigger company which companies. I'm sorry which countries they might sell to or if it's a really small company and they might even break down the exact customers.
So if you have like a b2b business model like like I've talked about in the past and might list like two or three clients that are these businesses that are there their customers, and that's where all the revenue is coming from.
So that's one way I think another way to like you said if you can find the arbitrage and you find the information that takes that risk factor away.
The annual reports will have these management's where they'll disclose what their risk factors are and that's actually where you'll see right at the beginning of a 10k annual report. You'll see the company layout, okay well our business model is dependent on let's say commodity prices or our business well is that risk to inflation.
Whatever the factors that are relevant to that particular business you'll find in the annual report. So that's maybe the first step is big is knowing that that's there and then seeking it out and then the next step would be what Maj is talking about here where you can understand what the risks are and then move on to analyzing.
Are the risks justified for what the price is giving us in the market and like you said companies have a variety of different strategies for combating these things. A lot of times they'll talk about hedges where though you'll see this with commodities allow or they'll buy like a future or build some hedge portfolio that adds other elements.
So that if one part of their business fails they have something else to pick it up. So there's a lot of different things and like you said I mean it's not like a free lunch you know, there's work involved in and that's  something that I think should not be understated here is there's a lot of hustle and a lot of research.
But again talking to investors with experience and guys who like to look at the numbers as you like to look at the financial reports and statements and that kind of stuff appeals to you I think there's a huge potential especially in a small cap, micro cap space.
I know personally, you know I have my eLetter where I'm making my stock picks every month and I'm a big majority of my stock picks will end up in the small-cap space, and it's not even like I'm trying to do that necessarily. It's just there are so many opportunities there lately that you know just makes up a big part of my portfolio and I don't that change you know for at least a little while, and I'm just going to keep buying them while they're still there.
Maj: Mm-hmm oh yeah and I think that that's interesting when you bring about in this space. I think the space for small capitalized stocks is getting a little better you know.
But I want to you know you touch something I want to talk about regarding you know looking at the 10k and the risk factor is that something that best do is you know look at past 10k's and see how their project might have changed over time that can give you some clues in terms of where things are going and try and you mentioned even the footnotes some investors will read the risk risk factors but they won't know even they want me to put notes, and there are some good information and footnotes they can give you point out some risks.
Just deaf we're some risk factors that were in the respect selection now which is a great source. Another great source of arbitrage, information arbitrage that you can find in these filings, and there's a lot of examples there too we can go over some time.
Andrew: yeah, that's super cool.
Maj: yeah there's a there's a section called subsequent events, and this seems so boring what does that mean, and that's when my favorite delivered reading these footnotes. It tells you what happened to the last company between reporting periods that and a lot of times there are some companies will not report it up puts up in the press release.
I'll put that in there, and it's it's a great place needs to find some both opportunity and risk and I look at.
Andrew: what kind of events are you talking about like acquisitions or like training or posters and mergers are great.
Maj: a great you know a great one because I came across coming out too long ago that you know the stock jumps from I guess fifty cents to a dollar fifty for some reason they were selling some assets. I'm I like looking at stocks selling assets so it kind of pretty because it's a restructuring play and maybe it takes a company with losing money, and they sell their losing division, and now they and they turn to a company almost overnight potentially.
So what caught my attention was a boring company, and then they made this acquisition, and that's alright it's interesting they're making an acquisition they're potentially getting in a sexy industry of telephonic industry and. Then it's our look ok never really think about details in the press releasebut, they just talk about all the good things of course with it would have meant then eventually not too long a night to attend q because they had you just released their earnings and they went to this subsequentevents section it talked about the acquisition a little more. And what you found out there was number one it was a development stage company, so there's space assault an asset and use some money on using their money to buy a development stage company which was contrary to what you wanted to do after years of underperformance.
And then you find out that it is being funded by a massive dilutive um there's no mechanism to the stock, and then you find out that the company they bought well some have been had some allegations of fraud in the management.
The management there and then you find out that there's a related party event that wasn't disclosed really so that was all that subsequent events kind of footnote and you know I went into this story may be one in a buy the stock. Didn't want to worry if maybe I want to short it was voided of course.
Yeah and in stock is slowly going down since then but you know if you are in the if you were just avoided to filing you might have bought that stock you maybe did and now you either you still might not know why it's going down.
Well you know the one who turned over the rocks is telling you why this knows why it's going down. That's an easy one, and that's one of an example I can find that's a recent example.
It's like, by the way, it's like there's these red five so that there you just have to either know from experience or wisdom that that's a red flag and to avoid it I guess that what X you know which ones are really bad and which ones aren't.
Yeah you know I'm not this like this guy I love I'm going in here would be some people goes you know here a shoe if you're a bear investor you you go we do these sources to look for reason too short I'm looking I'm going to look there just to buy can't look for a reason to buy something. To some degree I'm going to look to buy stock and I'm just it's trying to get my theory debunk potentially by looking at these things I wanted to find a great reason to buy that stock I just didn't, and that's the that's my I like to have a look at these opportunities.
Andrew: yeah, I love to always say that I focused so much on value traps and I focus on having a system that will automatically filter out value traps for me because I just naturally get so excited whenever I look at a stock that right it's like if I don't have that in play I'm going to make some huge, very aggressive things just because it's so easy to talk yourself in the one in buy a stock. And maybe glossing over some of the less attractive pieces and focusing in on while look at this particular aspect of this business that's just so fantastic or looks how dirt-cheap of a price I can get it at.
It's important to keep that in mind like you said not because we're trying to be a bear. We're trying to be pessimistic or trying to you know think that we're too cool and everybody else's is ignorant, and that's not the case at all. It's because it has the just getting into stocks and buying stocks as a potential to you can get swept up with the rest of the crowd so easily and so you have to make an effort to make sure that that doesn't happen to you.
Maj: oh sure and I'm always trying you always just you need to assume what does someone else know more than me on this thing because as always there's always someone who knows more than you do about that is trying and you try, and continu eto work on learning where you know as much as you can about a situation where you think you've got at least a pretty good handle on it the most people.
Andrew: yeah definitely so let's talk about investing. You know so you talked about how you offer a hybrid approach for the people who want to kind of get into it. Also, want some guidance but also want to do some of their research.
So you know you mentioned your 10-year anniversary maybe what were some of the big lessons and those ten years and then how the how do you guys guide the research-oriented investor to finding them the best information arbitrage that they can now.
Maj: anyway we're always educating so we're not just writing articles of that no stocks, and we write articles on how we go through the process and that that's really important to us and always showing case studies that are back up while we're looking at a particular type of opportunity that's really important.
Well no but one of the things I've learned along the way it was this that I think one of the biggest things lacking and it was I liked for me in the very beginning of my process was a process and what it's if you don't have a process you are they. I said you back and in anything in life really what it took on trying to imagine what you're good at in life.
You just they're imagined person close your eyes you probably know it but you have you basically taken you that hobby maybe or what you're doing the work and you just so good at it that you can find a prop you defined a process to simplify the process, and that's why I continue to learn as I evolved through this website and in doing this for years I assumed that investors had a process that's the wrong assumption and in the very beginning of our product. You know we threw a lot of ideas out to our membership basis for our base, and you know because it was great we thought was great research what we realize is they needed you know a little calling in terms.
What do we do with this information and so this is kind of like really happy with this model. What we call model portfolios and we take all of our research we put in the model portfolios you know and so it helps our members see the process.
See why we're building these portfolios, and it helps them kind of put these things put our ideas and little pieces in compartments and organize what we're doing. Where it before its members, and I think they have appreciated that we have a multi-bagger portfolio for the long-term investor.
I just want to put stuff away and haul over five, so you know ten years it doesn't care about volatility. We have a what we call a run to one portfolio which had a few what we call quality stocks turn under a dollar and now we think we'll run to one or higher. Yes you see with one of those by the way we have a portfolio of contrarian investors where it's for the mid term investor.
Potentially short-term where we build a portfolio four to five stocks where we get an intense research on but are falling for no reason other than just either a bad market conditions where the investor might have misinterpreted being misinterpreting good news and we just indefinitely fear an approach and we that's might be one of my favorite photos by the weights.
It's incredible or 96 one right now and there's doing fantastic, you know we're talking like I don't like the stretched short term but you know these guys are hitting like twenty, thirty, forty percent in the relatively short period because you just buy your base. These portfolios are buying in fear and then we're about the portfolio we're calling the rule 72, which is with a super concentrated investor or this was that lets us one stock that's afraid to invest long-term. But that wants to you know potentially get some nice returns on their portfolio so it's one stock at a time you know and that we think is going to go up at least twenty percent and it's a portfolio is going to continue to if you double.
You know the rules say to take seven years, and you double your money if you're reinvesting that stock. We reinvesting every time a twenty percent in three-point six times you doubled your money.
So that's where you know the altar like risky kind of investor doesn't want a lot of structured a lot of time. But once it still makes returns that will both watch that soon I'm pretty excited about that one.
So that's you know it's we have this thing we call Geo bargains which are you know really in this high streaming, we give maybe five reasons I like a stock. We go into it well we break out a tenant that the ten financial kinds of ratios and data points that support our thesis. And we have small little elevator pitch, so it's a very easy way to deliver a reason we like a stock well that is it it's learning as we're doing.
Here's a sense these five reasons that we like stock are a theme that continues across how epic other stocks. Great you know great margins, great margin management teams, activists getting involved in the stuff like this there's similar catalyst then we just find them all over the place and then we know we have you know the ratios were shared with requirements and then the elevator pitch, and I think it helps our health system.
Either way really starts to see the process we're taking in making decisions and is also at times will write very lengthy you know in-depth research reports you know when we think that and then others read and do that.
Andrew: that's cool yeah and well we'll have a link in the show notes that's going to link to everything you're talking about. Well so if you're listening and you don't have access to show notes geo investing.com/investingforbeginners.
By the time this goes live, I believe Maj you're going to put up a page for that, and you know a big reason why you grabbed our attention is that of your big focus on fundamental analysis and digging into the financial reports and doing the research.
So I think it's an obviously it's always great to have resources and if its fundamental analysis and reading annual reports and researching companies and buying individual stocks. If that's the kind of thing that you're trying to do and pursue it only makes sense to get we get advice and resources and different insights and try to get as many of those as you can.
Especially when you're starting now so at least you can have a base of knowledge and wisdom and you use and utilize other people's experiences and things that they've seen. Studying in the markets and try to take that into your advantage and so I think that's really cool what you're doing everything you're doing at geoinvesting and we really just want thankyou for giving us your time and talking to us about the annual reports and the press releases especially that was really really cool, so thanks for allt hat I guess if you have one last thing you want to say to the beginner there the average listener what would that be?
Maj: okay that that with the right process and I think any of us or any investor I think anyone looking to come to investing can be a better investor just like when you go to a gym you know, and you work out, you're never at your potential you might not become Arnold Schwarzenegger.
But you can become better, and that's the key.  You know it's very, and it's very possible my team that we have here and I'm proud of what I'm doing is made up of everything. Investors I got people here used to you know work at a gym, I got people here that have managed a restaurant, used to be already know managed restaurants.
I also have done the Wall Street guys you know and who are you know getting they got their masters and stuff so it's a unique group of people here and that is what we why we build you know investing. Why we launched this thing was to kind of start bringing great research to the everyday investor.
I think there's a lot to learn there and just keep trying and you know and just keep doing the research and don't lose faith because you keep, and when you, when you fail you know learn from that, doesn't you know it doesn't mean you're going to be a better investor. you know or make better your bad investments all throughout your life, and you don't you know because the way they markets work you don't need many great investments to succeed.
In this, the way the math works so just I just tell people and anything are possible in this game and don't listen to the media because I'll tell you it's not possible you know – now see I say – now CNBC and to help your portfolio.
So that's am I thank you guys for having me here really appreciate it. I love to do this again sometime; we can talk about more case studies maybe dig into different ways of the research process and then maybe I can learn what you guys do.
Andrew: fantastic, yeah definitely.
Dave: Yeah we'd be open to that. That was that was amazing I had a lot of fun listening to that. Thank you guys for allowing me to sit back and enjoy that I was drowning in you know stuff.
So alright folks, well that's going to wrap us up for tonight we appreciate Maj taking the time to speak to us tonight that was a really interesting conversation between Andrew, and He and I enjoyed listening to them talking.
I learned a lot myself, so I know you guys did too, so again we appreciate Maj taking a moment to talk to us, and we enjoy having him on, and we'll have to have him back again sometime soon. So if I may further ado, I'm going to go ahead and sign us off. You guys have a great week go out and invest with a margin of safety of emphasis on safety, find some intrinsic value, and you guys have a great week we'll talk to you later.