If you're like me, which I hope that you are not for your own sake, then you get most of your worldly information from Twitter. For better or for worse, that also includes any investing information, so let me share my favorite top financial twitter accounts!
I've previously talked about some awesome Instagram accounts, YouTube channels and top blogs, but why haven't I talked about my favorite Twitter accounts? Well, I don't have a good reason, actually. I mean, I already told you that I get all of my news from Twitter, so I might as well share!
Well, fortunately for you, I have a perfect mix of accounts (in my own eyes, obvi) of comedy, very simple and useful information, and then just pure quality information. Why are we wasting time with all this nonsense – let's go!
Straightforward Information
I have two accounts that are super straightforward with their info but they're both super useful. The first one is Dividend Cut (@dividendcut)
I have notifications setup on this account to alert me every time that they tweet. As you can see, all that they're tweeting is anytime a company is cutting their dividend.
The reason that I like this is because it's a mental note to me when I see the notifications and when I see shocking cuts, I am then prompted to check this out even further.
The next account that I like a lot is Earnings Whispers (@ewhispers). Earnings Whispers gives great information leading up to earnings calls and while I will never make a decision to buy or sell a stock solely based off the quarterly earnings of a company, I definitely do pay attention to those earnings.
They create some really cool earnings calendars so you can see what is upcoming that week as well as some good technical charts:
While charts typically are for traders and I am primarily a long-term investor because the numbers show that investing for the long-term beats the short-term more often than not, I also do like to dabble a bit with some technical analysis, so this information is super helpful.
Just Great Accounts
I have quite a few of these that I absolutely love, so get ready for the onslaught!
First and foremost is Tobias Carlisle (@Greenbackd) which I have talked about a couple times (podcast summary and a Super 6 Top Deep Value Investor List) and Andrew and Dave have had on the podcast before. Not only checkout those, but definitely checkout his website. I think that he does an awesome job at providing this contrarian mindset that we all should try to have in our daily lives.
He also does a really good job at simply hitting on key topics that most of us would find interesting, like, oh I don't know, if the fundamentals of a stock still matter:
Another great follow that Dave talked about previously on the podcast is Cullen Roche (@cullenroche). Personally, I have loved following Cullen during COVID because he does a really great job at cutting through the BS and talking about the impact that the Fed has.
Sure, I did an Economy 101 and it was a great entry level, but Cullen is able to get into the weeds with the best of them. If that's not your style, then you might not enjoy following him, but a follow is completely free and you're out nothing if you choose to unfollow at some point.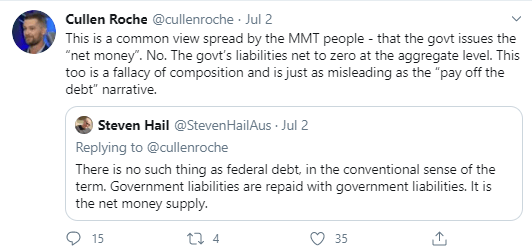 Moving on down the list is Jason Zweig (@jasonzweigwsj). Zweig is an investing columnist for the WSJ, which I am a huge fan of and included them on my list of top investing publications.
Admittedly, I think that I am a huge fan because I can read a lot of the things that he posts with my WSJ subscription, but he also has some good back and forth when he sees someone tweet something that is misleading or just incorrect, and I absolutely love that, and even has a good mix of humor built in!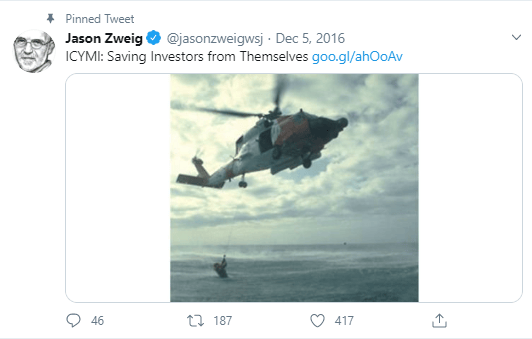 The last member of my "Just Great Accounts" is Doug Boneparth (@dougboneparth), and while he honestly could be in the comedy section, he also has some really great info as well. Boneparth is the president of Bone Fide Wealth and you can expect to see various topics covered from personal finance through investing, through just straight out hilariousness.
See – some great info and funny thoughts!
And this is just flat out hilarious, and I am a HUGE fan of Kanye. In fact, my favorite album ever is 'Watch the Throne' with Kanye and Jay-Z. If you're hatin, get outta here.
Comedy
Now it's off to the pure comedy section! You have to have some sort of comedic entertainment in today's world because if not, you're just going to lose your mind, plan and simple. I have two accounts that I absolutely find hilarious but they are on the edge of being overboard at times, so if they're not your cup of tea, I totally understand.
The first is John W. B. Rich (Wealthy) (@richtechexec). Please remember that this is not a real person and is 100% for fun.

I'm not going to lie, it's definitely a "dumb funny" type of account, but I find it hilarious. Give it a whirl! No need to be so serious all of the time!
The last account on my list is Ramp Capital (@RampCapitalLLC). Ramp Capital is another fake account that constantly has me rolling on the floor laughing. Most of the tweets will have some sort of investing or stock market focus but they won't all have that. Take a look at two recent great tweets below:
So that wraps it up! Those are my top financial twitter accounts to final. I think it's a good mix of useful information, great leaders and learning/article sharing, and then just some straight up hilarious tweets. If you don't have a good mix then you're going to lose your mind.
I think that it's essential to have some comedy built in to break up some of the monotony and keep it from becoming information overload. But hey, it's Twitter – you can get anything that you need to fit your own desired news!