You might've heard about the Upside app on the radio. Maybe you're wondering if it's worth the time. Contributor Andy Shuler took a try with the app to give us his very own unbiased Upside review. Will it save the average person money? Get reading and find out.
The average American drove 14,263 miles in a vehicle that gets 24.6 MPG, paying around $4.00/gallon, for a total of $2,319.19 in 2022.
That, my friends, is a chunk of change.
And that's only the average American consumer! This doesn't consider that commercial drivers, such as hauling companies, will drive many more miles with a vehicle that gets much worse mileage.
Now, I'll admit that a lot of those commercial hauling companies that require you to use a lot of gas and diesel likely use some sort of fleet card that allows the company to get discounts by buying in mass quantities, but that's not always the case.
But, what about for you, the common folk?
Maybe you drive 60 miles to work, each way, every day. Maybe you're an Uber driver and driving is literally your job. Or, maybe you just want to find a way to cut down on how much you spend on this necessary expense that you have.
Well – you're in luck. Upside has you covered.
I'll be honest, I had never heard of Upside before, and when I was taking a look at it at first, I immediately had a bad opinion on it.
I've used some apps like this before that just seem like it takes so long to actually make any money. Not all are that way, but a lot of them are. Upside is not that way. Let me walk you through the app.
Upside Review: Usability
When you first login, you will fall on a screen that shows you all of the offers in your location, which looks like this: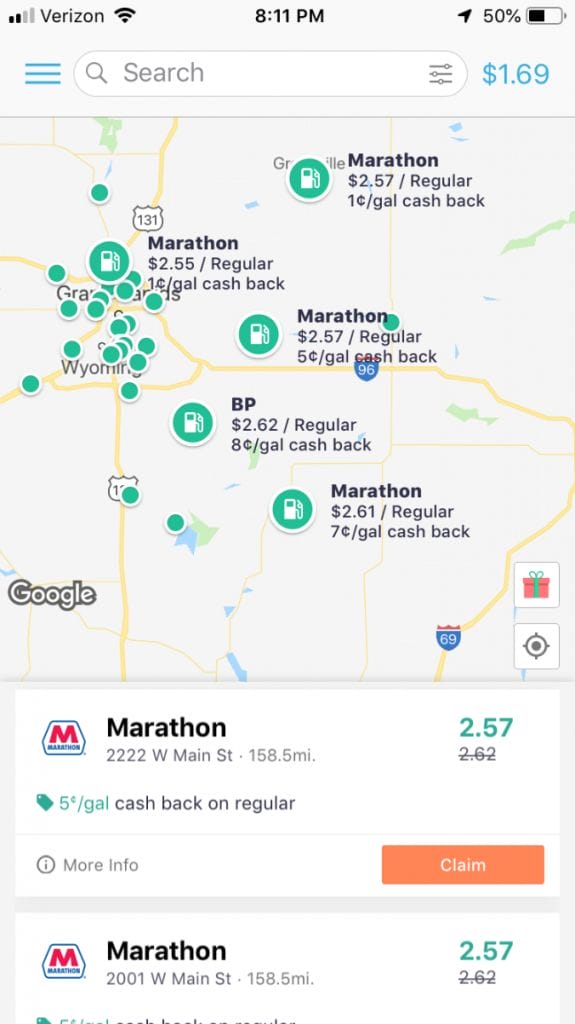 As you can see, it's showing quite a few offers in this area, primarily for BP and Marathon.  The app itself, and the process, are both very easy to figure out. 
Essentially all that you do is scroll through the various offers to find the best discount (in this screenshot you can see a $.05 off offer at Marathon) and then once you do, hit the "claim" button. 
Once you do that, you simply have to purchase gasoline at the station within 4 hours of claiming the offer, upload the receipt afterwards on the app, and then the money is automatically put back into your account.
I know that $.05 might not seem like a ton of money, but if you get $.05 off on all miles, the savings can add up:
A lot of these offers are for much more than $.05 as well, so this really is a pretty consistent view.  If you can throw in some referral bonuses of $.15 and many of the larger discounts (it can be $.25+), then you could really build this into some significant savings.
Luckily for me, Andrew was willing to share his referral code, which got me $.15/gallon – not bad at all! I promised him that I wouldn't share his code (ANDREW6362) with anyone, so I won't 😉.
After I made my first purchase and uploaded my receipt, I was sent an email saying that they were evaluating my purchase to make sure if wasn't fraudulent, and then the money hit my account about 3 hours later. As you can see, I saved $1.69 from one purchase alone.
Now that I've earned my money, I had the option to either cash out or to keep it in the account to keep earning. If I wanted to cash out, I have multiple ways that I can do so:
If you want to cash out in the form of a gift card, and Upside has a surprising amount of good options, you can, but you have to have at least $10 to do so.
PayPal was an option that I was absolutely shocked to see on here. I know that gift cards are essentially money, but PayPal is actually money…like basically just cash. And, as long as you cash out $15 or more, there is no fee to get your money to PayPal.
Editor's Update [10/22/21]: Upside now has an option to link up your bank account for your cash back transfer, rather than having to go through Paypal or wait for a written check. They have also added to the digital gift card options shown above.
Alright, cool – you can save a few bucks on gas. But, the way to really ramp up your savings is to get other people involved too.
Upside Review: Profitability
For instance, if you send someone your referral code, you receive $.01/gallon every time a friend buys gas, and you also get a bonus of $.15/gallon on your next offer.
They should be enticed to do this because they also receive that same $.15/gallon on their first fill up in addition to all of the deals on future fill ups as well.
You all likely know that I am one to track things…I'm literally a chronic tracker. Even as a kid, I tracked my baseball and golf stats in Excel…like a total nerd.
So, the fact that Upside will track my Lifetime Earnings is right up my alley. I love that I can personally see how much I've used the app and I can easily tell how much value that I am actually getting from it.
All in all, like I said previously, I thought that I was going to hate this app, but I don't for two main reasons:
First and foremost, the actual savings can be substantial
It's easy
That's it, really. It's an easy app that makes it easy to save. I personally have already really enjoyed using it and will continue to use the app.
When using the app, I kept drawing comparisons to the 'Seated' app that I have talked about in previous posts, but Upside is much more widespread than the few major cities that Seated was limited too.
I honestly thought that this was going to be a pretty negative Upside Review, but it's the complete opposite.
I can honestly say that I will definitely be a dedicated user going forward and I think that many of you will experience a similar sentiment that I have.