If you listened to Episode 154 of the Investing for Beginners Podcast and you're anything like me, some of the things that Andrew and Dave might've hit you pretty hard. Since COVID-19 has really been in full effect, I have found myself avoiding the news and in turn has left me seeking for some legitimate investing publications to continue strengthening my investing education.
During the episode Andrew and Dave talked about how they have gotten off some major time suck apps such as Reddit, Facebook and even trying to limit Twitter, and I've never felt more in line with anything that they have ever said. 
At the beginning of the year, I put a 20-minute limit on my Twitter usage every day and most days I hit the limit. Since COVID, I almost never hit it at all. I just don't want to be on Twitter.
Maybe it sounds bad but I just can't take it anymore. I can't take all the doom and gloom in the world. It depresses me and it has affected me in other ways too, including my desire to even listen to podcasts. I used to listen to literally 2-3 podcasts/day and now I don't even listen to that many in a week!
I feel like my investing efforts have slacked and maybe that means that I am leaving some money on the table, and that's just unacceptable, so I really think that this podcast was the most perfect timing ever.
Andrew and Dave really talked about three top investment publications for serious stock pickers, so I took the time to really check them out and wanted to provide my opinions on them – let's check them out!
Investment Publication #1: Wall Street Journal
Yes, the Wall Street Journal is expensive, but honestly the information that you get is just so much better quality than what you can find in other areas. I really do love the topics that you can read and it just seems like it's immediately cut down and doesn't contain all of the fluff and nonsense that you might see in a different publication.
For comparison, if you were wanting to get some information from a different publication, that was free, you're likely going to spend much more time actually being able to find a credible source and gather the information that you need compared to if you just paid for the subscription.
I'm not going to lie – the only reason that I even signed up for the WSJ is because I am getting my MBA so I was able to use my student email to get a discount, but after doing so, I legit don't think that I'll ever stop paying for it, even when I go back to full price.
I'll admit it – it's not cheap. They're running some great specials now, such as $1 for 2 months, but the average price to be a subscriber to the WSJ is $39/month.
There's a ton of topics and an endless rabbit hole that you can fall into, but in a good way! Below are some of the main topics that you can drill down into:
I mean, this is an investing website, so obviously I am super into the markets section, as shown below: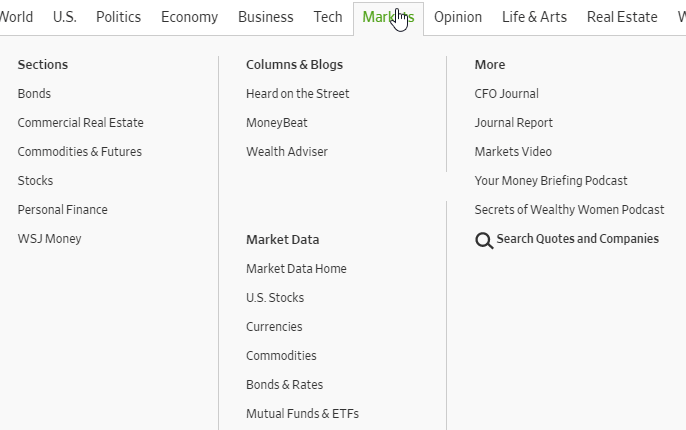 And you know that I'm a huge personal finance fan (I do call myself Doctor Budget, you know), and they even have a great section on that with a recent article that I read called 'How to Rethink Your Budget With Just One Income'.
Investment Publication #2: Bloomberg
I like Bloomberg a lot because I feel like the data is targeted a lot more towards the market and investing, and, well, this is the Investing for Beginners website!
Unlike the WSJ, you can read a few articles without having to pay for a subscription, but a subscription definitely will unlock all of the articles for your viewing:
They might seem cheap, but the Monthly option is $1.99/month for 3 months and then the regular rate of $39.99/month, for an all-in rate of $365.88. Or, you can sign up for the Annual pass at $330/year which then renews the following year at $475 for the entire year. Once you're paying $475/year, that breaks down to about $40/month, so it's definitely not cheap.
My recommendation here is to sign up for the $1.99/month option and simply see how you like it. If it's not worth the $40/month, then cancel it before your three months is up. My guess is that it will be worth it and if it is, it likely means you're watching less tv, so maybe you cancel some subscriptions that you might have.
With that low of a starting price, you can take the risk to try it out for a few months and see if it's worth it for you. Worst case is you're three months in and out $6.
Whoopty doo.
Investment Publication #3: Seeking Alpha
I wrote about Seeking Alpha as the #1 Top Stock Analysis Tool in 2019 so it just makes me feel that much better to hear Dave echo some great comments about it now!
Seeking Alpha is a great way to get some quick data on a company to help you develop a high-level perspective before potentially reading a company's 10k. Maybe your stock screener has it narrowed down to 8-10 companies and you want to get to an even smaller list prior to dedicating hours of research – Seeking Alpha is the place to go.
They do have a subscription option, but I think that the free information is plenty, especially depending on the purpose. Either way, I don't think I could ever get the Pro – that's 40% of an IRA contribution!
Hey, maybe it's worth it. But that is a really, really high cost. Regardless, why not start with the free version and just dabble a little bit with the Premium if you're not getting what you need.
The common trend here is that while you might have to make a decent monthly payment to have the services, you can generally get in and test them out for a pretty cheap price!
For me, I've found myself reading articles rather than strolling through Twitter lately and honestly that's worth way more than $40/month. All that Twitter does anymore is frustrate me! Well, that is other than these incredible investing Twitter accounts that I follow!