Credit cards can get a bad wrap, but when using the right card and paying your account down to zero on a monthly basis, cash back credit cards can be a powerful way to help knock 2% off your annual expenses! Smart savers would be wise to use cash back credit cards and get a share of the major payment company's revenue.
Compared to the pricey "rewards" credit cards which can carry annual fees of $100 and up, cash-back cards are generally $0 annual fee cards. The pure cash rewards deposited onto your card balance or even straight into your bank account can be a meaningful part of your savings, which will slowly compound over time and help you retire early.
The Compounding Effect of Cash Back Credit Cards
Cashback rewards can be paid out often (even monthly), but rewards points will often sit idle for years before enough points are accumulated to make a purchase. This means that reward points do not benefit from the magic of compounding to the same effect of cash back credit cards. With cash back credit cards, not only are you saving money, but that money can be invested and compounded.
Say your household has $20,000 of expenses every year and you are able to pay $15,000 (75%) of those on credit card. Getting on average 2.2% of this spending back in cash rewards would amount to $440 a year, as we will show later with an example across different card types.
While this doesn't sound like a huge sum by itself, this $440 of savings could be invested to earn a long-term return of 10% in the stock market for an additional $44 a year in investment income which will compound over time. Over a working life of 40 years, these simple savings from cash back rewards could compound to a whopping $194,741!
Beware of Bait and Switch Tactics for Rewards Cards
While "bait and switch" might be a bit of a harsh term, the use of one-time free upfront points (100,000 points on signup!), fee waivers for the first year, and non-meaningful point values can make rewards-based credit cards hard for consumers to understand.
As mentioned previously, rewards cards with points often come with pricey annual fees. While the $100 fee might not seem expensive at first sight, it comes into perspective when you realize that fee would take $10,000 worth of spending on a 1% cash back card just to break even! With a cash back credit card, you are saving from day one.
Which Type of Cash Back Card to Choose?
The beauty of $0 annual fees means that you don't have to choose just one, and can have multiple credit cards to use in different circumstances. I myself have four different cash back credit cards! Let's discuss some of the major categories and what consumers can expect to find.
Classic Cash Back: As your go-to card for none speciality stores, this general cash back card should carry rates of between 1% – 2% on all purchases with no annual spending limit and qualifying purchases everywhere credit cards are accepted.
Grocery: We all have to eat and our grocery bills can be one of our most significant annual expenses. Some of the best cash back cards will offer rates of 2% – 3% at grocery stores with no annual spending limit. Given the amount of spending that can be done at grocery stores, these cash back savings can be some of the most significant of all your credit cards.
Categories: In addition to getting base cash back rates around 1%, these cards let you choose around three specific categories (restaurants, furniture, hotels, etc.) which you will earn a more significant 2% – 5% cash back on. These specific categories typically come with annual spending limits for each category, say $10,000 a year, on which cash back will be earned at the higher rate.
Speciality Store: These cards are issued by specific stores themselves in an attempt to gain your ongoing loyalty. They can range from 3% – 5% on purchases at the store. If you have regular spending at the store, these savings can add up quickly.
Adding up the Cash Back Savings!
It's important to think about the total savings across all your cash back credit cards. So let's rack up the savings for an example family with $20,000 of annual expenses between grocery, restaurants, travel, gas and other. As you will see, the cash back savings can quickly amount to over 2% ($400) a year!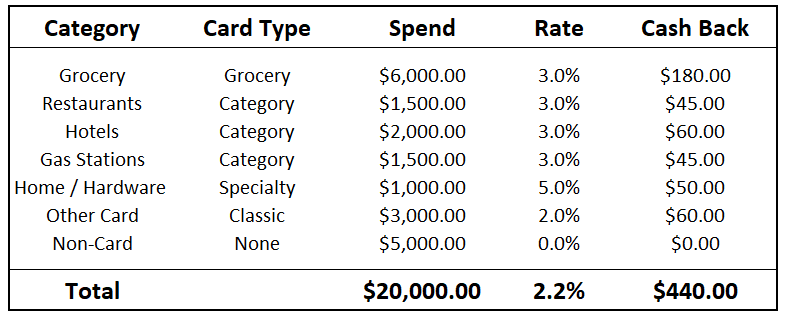 Takeaway for Savers
Cash back credit cards can be a great tool to help reach your personal finance goals. As long as you are paying your bills off to zero on a monthly basis, the savings generated from tiny 2% cash savings can be a meaningful part of your life savings. Just like making sure you are earning a return off your savings account and idle cash in your portfolio, the incremental savings from these 1% savings can really compound over time. Always ask before you purchase, can I put that on credit card?!