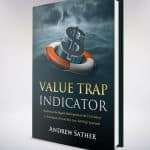 How to master the fundamentals of investing
Identify the investor's biggest threat and avoid it
Full explanation of the Value Trap Indicator
Analysis: 12 biggest bankruptcies of the 21st Century
Remove the fear of investing to create fantastic returns
Monthly buy/sell recommendations
Follows a real money portfolio
Value Trap Indicator score with each buy
Safer stocks strategy for peace of mind
Shared interest in success. I'm with you.
The Investing for Beginners Master Class
Personal finance and investing basics
In-depth lessons made simple
Logical progression through the material
Enrollment currently closed. Subscribe to the free email list to be updated when it re-opens.