Flagship Newsletter
Monthly buy/sell recommendations
Follows a real money portfolio
Value Trap Indicator score with each buy
Safer stocks strategy for peace of mind
Shared interest in success. I'm with you.

Stock Analysis Tools

The Value Trap Indicator Packages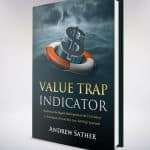 How to master the fundamentals of investing
Identify the investor's biggest threat and avoid it
Full explanation of the Value Trap Indicator
Analysis: 12 biggest bankruptcies of the 21st Century
Remove the fear of investing to create fantastic returns
Spreadsheet: IFB Equity Model
3-statement forecast, valuation model
User inputs: automated 10 year forecast
6 valuation methods
Fully customizable, intelligently adaptive
Additional Resources

The Investing for Beginners Master Class
Personal finance and investing basics
In-depth lessons made simple
Logical progression through the material
Valuations and financials explained
Enroll now for lifetime access
Spreadsheet: Doctor Budget
Get REAL results with a budget
How to correctly plan for expenses
Easy (and quick!) to use template
Reveal money pits instantly
Investor focus to maximize compounding of wealth
The IFB Equity Accounting Course
Learn key metrics and ratios of accounting
Detailed guides on the 3 financial statements
16 modules about valuations and modeling
IFB Equity Model spreadsheet included for free
Enrollment now closed.
Learn the Importance of creating a revocable trust and the impact on your children's future
Discover how easy it is to set up a revocable trust, with step-by-step instructions, including a video example
Explore the many investment options with our easy to use guide to get started