For Part 3 of this guide, I will show you the absolute best strategy you should always use when investing and will help you overcome the biggest hurdle beginning investors face: buying your first stock. Buying just 1 share of your favorite company when buying your first stock is like taking your first step into the market. I can't stress enough how important buying your first stock is, as you can read and read until your eyes turn blue but you won't start to see progress towards your results until you take action. Trust me from a guy who has been there before, buying your first stock gives you a sense of empowerment and excitement of being part of the stock market. First, a reminder to the 7 categories of the guide.
1. Why to Invest?
2. How the Stock Market Works
3. The BEST Stock Strategy and Buying Your First Stock
4. P/E Ratio: How to Calculate the Most Widely Used Valuation
5. P/B, P/S: The Single Two Ratios Most Correlated to Success
6. Cashing In With a Dividend Is a Necessity
7. The Best Way to Avoid Risk, and Putting it all Together!!
Before going over buying your first stock, I am going to reveal the absolute best stock strategy you can use and most wealthy investors use. It is called: Dollar Cost Averaging.
Dollar Cost Averaging
What do investing greats have to say about dollar cost averaging? The godfather of value investing and Warren Buffett's mentor Benjamin Graham wrote in his book The Intelligent Investor that dollar cost averaging "enables you to put a fixed amount of money into an investment at regular intervals… You buy more – whether the markets have gone (or are about to go up), down, or sideways." Warren Buffett called this book "by far the best book on investing ever written" and it is the resource many investors refer to for guidance.
Dollar cost averaging is simply investing the same amount of money every month, year, or week, into the stock market with the effect of forcing the investor to buy more when stock prices are lower and buy less when stock prices are higher. By dollar cost averaging, the investor is always invested and will not be devastated by the losses that come with trying to time the market.
Stay Away from the "Psychics"
In your investing life, beware the analysts who claim they know the exact time to buy low or sell high. In retrospect everyone believes they would've been able to predict the highs and lows of the market, but in reality it is in fact impossible. Trying to profit from timing the market will drive you nuts and always leave you regretting your decisions. Most investors will sell too early and miss out on bigger gains or will sell because stocks have fallen significantly, which is the absolute worst time to sell. Or, investors will often feel good about their investments when they are doing well and will as a consequence buy alot more at the time where stocks are very high already and there is very little upside.
Dollar cost averaging gives you the necessary, patient discipline you need to stay in the market for the long term and through the ups and downs. How does this strategy help you buy more when prices are low and buy less when prices are high? Take this simple example.
Say a stock's price is $10 today, and you are buying $500 of stock a month in a dollar cost averaging strategy. So, the first month you buy 50 shares of this stock. Let's say next month the price has dropped to $5. Instead of getting pissed that the shares have fallen so much and cursing the world, the smart investor sees this as an opportunity to buy more stock at a discount. So, again you invest $500 in month 2 knowing that you are in for the long term, and you end up buying 100 shares. Let's say in month 3 the price is still at $5 and you are buying 100 more shares. Finally in month 4 the price recovers and is now at a whopping $15.
Compare where'd you be if you had or hadn't dollar cost averaged. With dollar cost averaging, you have 250 shares of stock now worth $15, and you are sitting pretty with some nice gains. Let's say you didn't use dollar cost averaging and you had invested all $1500 at once. You'd have only 150 shares, and when the price dropped to $5 you might've sold at the worst possible time, unable to stomach any more losses.
Remember: Don't Try to Time the Market
While this might seem like an extreme example, you'd be surprised how often this happens to investors, which is the reason why many shun the market after being burned like this. Little do they know that a simple strategy such as dollar cost averaging reduces the possible downside and keeps you disciplined and invested long term.
If the price had instead gone up initially instead of down, yes investing all of it at the beginning might have been best in the short term for you now, but over many trades and years of investing, you'd find you're getting burned more often then you are gaining. Plus, how would you know when to sell? No one is able to predict the future no matter how much convincing you may hear, and the true answer is no one knows. That's why it's important to stay long term invested and taking some profits along the way, without getting greedy or attempting to sell at the highs or buy at the lows. Market timing will lead you to despair, and those who claim otherwise have yet to be burned by it but eventually will.
Time for Action: Buying Your First Stock
Now that I've showed you why to invest, how the stock market works, and the best investing strategy you can use, my next recommendation is getting your feet wet and taking the first step towards taking control of your future by buying your first stock.
The best online broker I can recommend for buying your first stock is TradeKing (bought in 2017 and renamed to Ally), and let me tell you why. Firstly, this broker is one of the few who don't have a minimum initial deposit when opening an investment account. Most investment brokers require at least $500 to deposit, which doesn't help investors just trying to start out. I mean who wants to pay $500 when buying your first stock? Plus, the site has such low fees for buying your first stock and your next stocks, charging only $4.95 per trade compared to most at $6.95 or $9.95. TradeKing (Ally) also ranked number 1 on comparebroker.com for accounts with no minimum and ranked number 2 on top 10 list online. I've made an easy picture guide to buy your first stock below.
Open a TradeKing (Ally) Account here
Please be aware that the process takes about 15 minutes to apply, and then 1-3 business days to get approved. Once that is completed, you are able to log in and buy your first stock! Wealth building doesn't happen overnight, so this is a good opportunity to practice that newfound patience. On the first page, scroll down to open an account:

Select the type of account you want to open. If you are starting out and just want to buy a share, I suggest an Individual Account.

Hit the green "continue" button then fill out your information on the next page.

Next, fill out your Employment Information. Don't worry they will not be contacting your employer, they just need some sort of recourse to insure you aren't a waste of their time.

The next page is just a survey, so TradeKing (Ally) can assist you with the best suggestions.

This next page is important, in the sense that you don't want to apply for margin. Investing with borrowed money is one of the worst things you can do in investing, this is how lives are destroyed and investment portfolios ruined. When the market crashes you need the patience to ride it through, but with margin accounts the broker may force repayment on big losses and force you to sell at the worst time, near the bottom when everyone else is freaking out. Just don't invest with margin.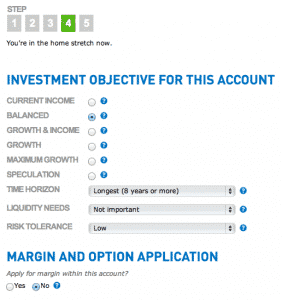 The final step has you reviewing terms and conditions then signing your name. When dating the form, do it exactly in this way 04/18/2013.

The next step involves transferring funds into your account so you can buy stocks. Once your checking account is approved, which I recommend doing instead of through wire or check, then you can transfer money in and out of the investment account with ease. Click on the yellow arrow on the bottom right of the screen to continue.

Enter your banking information on the next screen.

For the last step, take a picture of your driver's license and a voided check for your bank. Write down your 8 digit account number and include it in the picture as well. Email the picture to the link provided and that's it. In a few days you can be making your first stock purchase!

Now That You Have an Account, Buy a Stock in 4 Easy Steps
1. From the home page, highlight the "Trading" tab and then select Stocks/ETFs -> Regular Hours Trading.

2. Next, fill out the information with the number of shares you want, the stock ticker, and also select Market for a regular buy.

3. Review the information and make sure you didn't make any mistakes

4. That's it! Congratulations, you've just bought your first stock.

I hope this quick picture guide was helpful and informative. I only recommend services that will help investors on their way to wealth, and getting your feet wet with TradeKing (Ally) is the best first way. Once you have ownership of a stock, you gain a sense of empowerment and can truly understand that the market isn't as foreign and foreboding as some might've thought. I do get paid for those who open an account through my affiliate link but I don't provide the link just for the money. I truly believe the more people I can help out online the better my experience as well, and so I only have a few recommendations for my readers. TradeKing (Ally) is the best online broker out there, and I'm confident affiliating myself with them. If you'd like to give back and also help yourself, here is the link one more time.
Open a TradeKing (Ally) Account here
Once you've completed this step, be sure to continue with the Investing for Beginners guide. You will learn how to evaluate stocks in order to make the best decisions for your investing journey.