Have you ever heard of AAA? Back when I was a kid, my parents had AAA (pronounced triple A) and I absolutely loved the service, but as an adult, I find myself now wondering is AAA worth it?
They would always include us on their plan when we first started driving and I honestly used it a ton of times. When I first started driving, I had a really bad issue with locking my keys in my car. Like I did it three times the first year of owning my car.
I would always open my trunk, put my keys in there so I could grab my golf bag out, and then just shut the trunk. Turns out that didn't work so well as I only had one set of keys!
Some of my other uses with them included:
Getting a new battery when I went out to start my car and my battery just completely died on me from being old
Getting gas brought to me when I ran out of gas on the highway in the middle of winter
Getting my car towed when I was rear ended
You might be reading this and be like, "damn, Andy, you're an awful driver." Honestly, after reading all of these I'm starting to question myself, but many of them happened when I was in high school or early in college.
But now that I am older, I find myself wondering if AAA is really worth it. So, the question is – what does AAA even provide?
In my area, AAA has two different types of options – the Basic and the Plus plan:
As you can see, the Basic plan really isn't that expensive. Since I am married, I am going to assume that my evaluation is for two people. Note that it's $52 for the plan and then $30 for search additional person, so the total cost for my family would be $82/year.
From my experience, I have learned that AAA, similar to car insurance, is one of those things that you hate paying for until you need it, and then that first call will justify the entire annual payment because you can have peace of mind when crap hits the fan.
As I mentioned, AAA also has a Plus plan:
The Plus plan is $79/year and then $49/year for additional members, so the total cost to my family would be $128/year.
Truly, the only major difference is that the Plus will get you 100 miles of towing vs. the Basic only giving you 3 miles. 3 miles likely is going to be sufficient – the only benefit of longer would be that if you're 75 miles away from home when your car needs towed, they can tow it back to an auto shop or mechanic that you're familiar with and trust rather than essentially just taking you to the closest one.
Between these two options, since we both have newer cars, and our commute is about 5 miles to work, I think the Basic option is better for our lifestyle. If I was going to drive much further on a daily basis, I would seriously consider the Plus plan.
So, what else do you get with AAA?
Travel Assistance
AAA offers you travel assistance to help you plan your trip and also find the best deal. I remember as a kid that we used to use this when we went to Disney World. Back in the day, I think this was a great benefit – now that I am older and information is at your fingertips online, I think that you can gather a lot of the information that you might need in many different ways other than paying for it.
If you're the type that doesn't want to do a bunch of leg work and get in the weeds, then maybe AAA would provide a great benefit for you when it comes to travel – just depends on your desire!
Insurance
Personally, I didn't use this so I'm not sure how competitive their rates are, but I think this could be a big benefit to you if you're a "one stop shop" person like I am. As long as pricing and benefits/value are competitive, then I like to try to minimize the different places that our money is going and just make one payment each month/year.
So, the fact that AAA can provide me home and auto insurance is a major win for them in my eyes, again, assuming the pricing and coverage is compatible with what I currently have.
Shopping Discounts
If you have ever had AAA before then you know exactly what I am saying with this section. In my hometown, many places frequently offered AAA discounts for you to save money on. I mean, like even chain restaurants such as Buffalo Wild Wings and Penn Station, sporting goods stores like Dunham's Sports, local spas, car shops, local restaurants and furniture stores.
Most of the places from my hometown you simply will go in and show them your AAA card and they're going to give you a 10% discount. I know this might not seem like a huge deal, but when I was buying new golf clubs, you could go to Dunham's Sports and get a driver for $300 and then get 10% off, a savings of $30. That's literally the entire additional person charge for the Basic plan!
To broaden horizons a bit, below are some of the offerings for my old address in Lincoln Park in Chicago: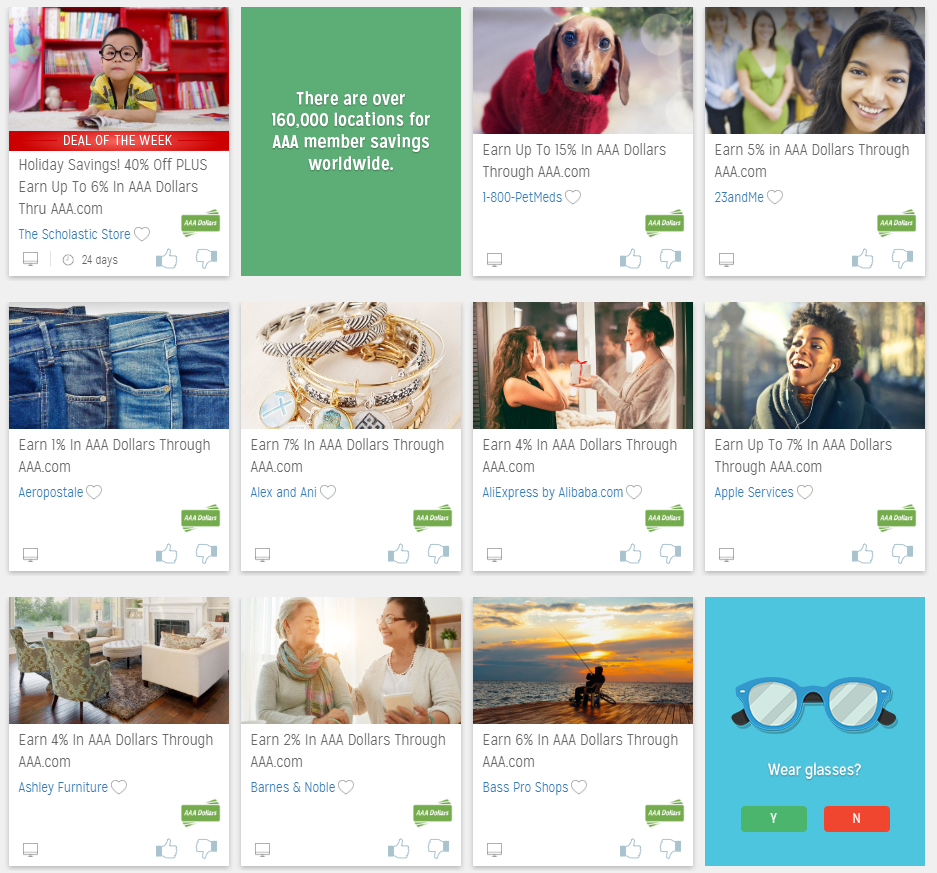 As you can see, a lot of these are online offerings where you can earn 'AAA Dollars' which can then be used to pay your bill. They also have a variety of local deals that can simply have the discount taken off when you're buying at that restaurant as well, similar to my past experiences.
So, is AAA worth it?
Personally, I think it 100% comes down to the specifics of your life. Ask yourself these following questions:
If I get in a car accident or car trouble, what is my plan?

If you don't have a plan, you need to get one. AAA could very well be your plan. Personally, I do not need AAA for this because we have the Emergency Road Service with our Geico insurance which only costs $9.30/person each year. Included in that are some very similar benefits that are included in the Basic plan with AAA.

What would my "effective price" be

Yes, you can simply look at the cost of the AAA package that you'd like but that's likely not the best way to evaluate. If you know that you go to Buffalo Wild Wings each month and you spend $30 between yourself and your wife, you could now get 10% off. So, that's $360 total spent each year for a total savings of $36, so the $82 cost of the basic plan (for two people) is now down to $46 when including the Buffalo Wild Wings discounts. Maybe at this point, the value will be there!
At the end of the day, the cost of AAA really isn't that much to have some peace of mind. I urge you to look at the costs of each package for your local AAA and also evaluate all of the discounts.
For me, AAA is not worth it, but for you it very well could be!