Do you know if you're being overcharged at the grocery store? With the advent of online shopping, there are things you probably buy at the grocery store that you can now buy on Amazon to save money on your budget. This post will cover 11 commonly bought grocery list items and how the prices stack up vs. a grocery store like Kroger.
Click to jump to a section:
Why Go Through the Trouble?
In the past, I have written about how I used to literally go into a grocery store, look at the price of an item, look for that same item on my Amazon app on my phone, and purchase from wherever is cheaper. 
While this wasn't always Amazon, more often than not, it was. This often involved buying in bulk, but who cares if you have the room to store it? I still do this frequently, and the fact that it's delivered is an extra bonus.
An old boss told me that grocery shopping is the most inefficient task ever. Think about it:
Find Grocery List Item
Put Item in Grocery Cart
Take Item out of Cart to have scanned
Put item back in cart
Take Item out of cart to put in car
Take Item out of car
Or, you can do this:
Find Grocery List item on Amazon App and purchase
Open box when it's delivered
One of these options seems quite a bit easier… along with getting the potential savings.
I know that for this to work out, you will likely need Amazon Prime, which is not free. But I think many people have Prime regardless of whether they use it for their grocery list budget. This is simply another way to help justify that expense. 
11 Items to Buy Online to Save Money
For the most part, you'll notice that it's primarily consumer product goods commonly bought at a grocery store, but let me show you!
I looked at items I have personally budgeted for and bought (except the Huggies) in the last couple of months and pulled up prices on Amazon. I compared these to the grocery store that I frequent, Kroger.
Let's take a look:
Cheez-It Baked Snack Cheese Crackers, White Cheddar, 12.4 oz Box
Kroger – $2.99
Amazon – $2.88
Hefty Strong Multipurpose Large Black Garbage Bags – 30 Gallon, 28 Count
Kroger – $7.99
Amazon – $6.76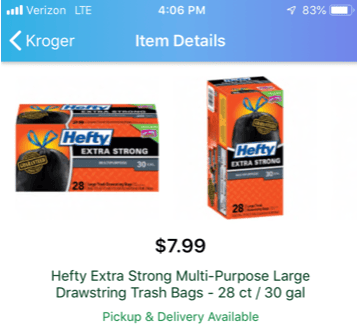 Del Monte Canned Fresh Cut Blue Lake Green Beans, 14.5 Ounce (Pack of 12)
Kroger – 4 for $5, or $1.25 each
Amazon – 12 for $11.34, or $.95 each
Cascade Complete ActionPacs Dishwasher Detergent, Fresh Scent, 78 Count
Kroger – 78 for $17.99, or $.23 per
Amazon – 78 for $13.86, or $.18 per
McCormick Table Ground Black Pepper, 16 oz
Kroger (Off Brand) – 6.25 oz. for $5.99, or .96/oz
Amazon (McCormick) – 16 oz. for $9.99, or $.62/oz
Crest 3D White Toothpaste Radiant Mint 4.8 oz (3 pack)
Kroger – 3.5 oz. for $3.29, or $.94/oz. Note that this was the best offer that Kroger had
Amazon – 3 – 4.8 oz. containers for $8.97, or $.62/oz
American Crew Grooming Cream, 3 Ounce
Kroger – 3.53 oz. for $17.99, or $5.10/oz.
Amazon –3 oz. for $9, or $3/oz.
Edge Shaving Gel for Men, Sensitive Skin with Aloe, 7 Ounce – Pack of 6
Kroger – 14 total oz. for $5.79, or $.41/oz
Amazon –42 total oz. for $16.02, or $.38/oz
Gillette Mach3 Men's Razor Blade Refills, Mens Razors / Blades, 15 Count
Kroger – 4 razors for $9.99, or $2.50/razor
Amazon –15 razors for $21.99, or $1.47/razor
Gatorade Whey Protein Bars, Variety Pack, 2.8 oz bars (Pack of 18)
Kroger – 5 bars for $9.99, or $2/bar
Amazon –16 bars for $24, or $1.50/bar
Huggies Little Snugglers Baby Diapers, Size 1 (up to 14 lb.), 198 Ct, Economy Plus Pack (Packaging May Vary)
Kroger – 76 diapers for $24.99, or $.33/diaper
Amazon –198 doctors for $46.70, or $.24/diaper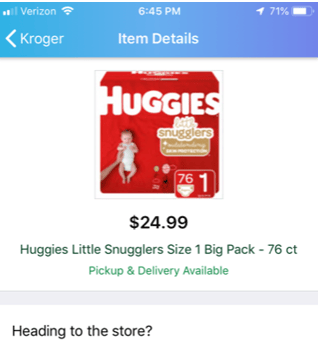 While each item's savings might not seem that drastic, the total savings to my budget is rather large. I went through and completed a breakdown of each item and then created a 'Total Savings' column that shows the amount saved when buying that item on Amazon instead of at a grocery store like Kroger.
To ensure this was an apples-to-apples comparison, I ensured the serving size was the same. For instance, with the Gatorade Bars, since the largest unit between Amazon and Kroger was 18 bars, I multiplied the cost/bar of the lower item supplier by 18.
To explain better…
So, in other words, if I bought 18 Gatorade bars at Kroger, I would have spent a total of $11.96 more than I would have through Amazon. Below, I made that same comparison for all products.
As you can see, not necessarily a huge amount of savings, but when you consider that I buy all of these things (except Huggies) at least once every other month, that number quickly adds up to $441.78 ($73.63 X 6 purchases annually), or $331.32 ($55.22 X 6 purchases annually) if you exclude the Huggies.
I've even had people tell me the money saved isn't worth the time. Well, I did all of this between 6:09 PM – 6:45 PM, excluding the Cheez Its and the Hefty bags, which I did earlier in the day, so an average of 4 minutes/item. 
So, 44 minutes essentially saved me $73.63, which is an hourly rate of $100/hour. If you make $100/hour, good for you. I'm jealous. If you don't make that, give this a try.